Cabana EP by Tree Wave, reviewed by Andy Freeburg
---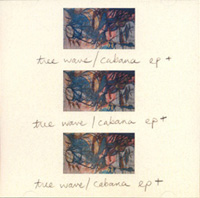 I stumbled upon this band through another band's (ISAN - www.isan.co.uk) website. They alluded to the fact that this band uses a Commodore 64 computer, Atari 2600, and a mic-ed up dot-matrix printer to make their music. It sounded interesting, but then so did The Locust. For the next few days, I saw their stuff on other websites; they were being compared to My Bloody Valentine. Good enough for me. I ordered the CD.
If you became sweaty by description of Tree Wave's use of old computers to make the music, skip this review and go to http://www.qotile.net. Warning: geek spray tarp required.
If you like My Bloody Valentine - it's not an accurate comparison, but read on.
If you like to run on a treadmill at 6 MPH, you'll be pleased to know that the Cabana disc locks into a great running cadence, and is long enough for a pleasant cardiovascular workout.
If you like Stereolab, but have grown tired of their grad-school wimpiness, Tree Wave is your band.
While those laptop wankers sweat about which turtleneck they plan on wearing at their show, Tree Wave is reverse-engineering some old computer junk…
Any worries about the music not having guts because of how it was created are dispelled right off the bat. "May Banners" has an instantly dig-able throbbing synth bass undercut by some hottt portamento action. It's fuzzy and dirty sounding. It's got hooks. It's one of those songs that you'll be bobbing your head, pursing your lips, and mouthing the words "shit yeah, bro!"
All of the songs on this disc are layered (maybe that was the MBV allusion) like a clear plastic cake. Each instrument and voice is distinct and crisp and they pile up to a visceral density.
The third song is another muscular pop blast which begins with the amplified dot-matrix printer chattering away while some shimmering notes hover in the background. It doesn't take long for the huge, farting synth bass to plow into the mix. I wouldn't even want to hear this on a real audio system; it really sounds like my speaker cones are shredded and flapping in the electronic breeze. Also, check out a similar BAZZ BLAZT at 1:36 on the song "Same." It's a pants-filler.
Don't get the mistaken impression that 7 songs on this disc are Rollins-esque beef fests. Each song, while tough and propulsive, has (thanks to Lauren Gray's mellifluous and unornamented vocals) a sweet, poppy filling.
The last song segues into the data they've included on the disc for creating your own C64 synth. It is the only song on the disc that sounds like MBV with the hazy, wavering guitars and buried drums. It's good. Even though the packaging (which is pretty 8th-grade brutal) tells you to stop listening, it's an awesome trip down memory lane for those of us who remember using cassette tapes to fire up Oregon Trail on the Apple IIc computer. Believe me, the piercing scream of aged data will have you grinning like an idiot and will have your dogs running from the room.
Tree Wave has some obvious nods to Stereolab, but they do it so much better and without the horrid pretension.
This self-released disc is a testament to true musical ingenuity, hard work, and solid song writing skills. I love that this disc kicks most current computer-pop artists' asses. While those laptop wankers sweat about which turtleneck they plan on wearing at their show, Tree Wave is reverse-engineering some old computer junk and getting better gigs, better results, and happier fans. Check them out at http://www.treewave.com.